I hope your week is going well. I have been sidelined by a killer throat infection this week. Just in time for back-to-school! I'm hoping the antibiotics will help me kick this bug to the curb before I have to start teaching again next Thursday,
But meanwhile… lots is happening in the online world, and I need to let you in on some of the great deals I know about for this week.
If you have been holding back and shy about selling, you need to grab both training deals below TODAY and start really working toward your own success. These are NOT PLR, but both trainings could be life changing for you, depending on where you're at right now.
Table of Contents
This Week's Featured Free PLR
Special Offers – Scroll Down to See Them All!
New at HomeFreeMedia
Featured Article
This Week's Featured Free PLR
Protect Your Skin from Sun Damage PLR SuperPage
This week's freebie is on the theme of How to Protect Your Skin from Sun Damage. Get your free Sample Page to check it out.
---
Get your PLR SuperPage Sample.

See the Sales Page.
Interested in earning 50% commission? You can easily become an affiliate here.
Please note that this is a new, updated version of previously published material.
Special Offers
Training 1: From Laptop Lifestyle's Angela Wills
Angela has put together a new training, Energetic Selling, for us all over at Laptop Lifestyle YOUniversity, and she's making it available to non-members for a limited time only (ends Friday!)
Here's a summary of the training included in ENERGETIC Selling:
Survey Your Sales Assets so you know what you have, and what you have to build.
Decide Your Sales Urgency so people will pay attention and take action to buy your offers.
Copywriting Essentials you can use in emails, blog posts, social media & more.
Sales Conversion Basics to understand and take CONTROL of your results.
Leave Fear of Selling Behind and replace it with a burning desire to serve your peeps.
Get EXCITED about selling so your energy is infectious and undeniable.
Selling From Your Stories so that people relate to you and are motivated to take action.
Your Successful Sales System discovery so that you find your unique sales methods.
Passive Sales Practices so you can take breaks, vacations and enjoy the Laptop Lifestyle!
Energetic Selling is your laid-out path to selling with more ease than you ever imagined.
Here's what you get with this course:
Video Training to keep you engaged and following the program. You'll receive short, easy-to-consume video lessons & download pdfs worksheets, checklists & assignments for action. The video will be gradually released over the month so you can follow along and keep engaged as you work through the course.
Live Q&A Webinar Sessions (Recorded) so you can show up and keep up with the course (we'll do a summary in each session). You'll be able to keep accountable in these sessions and also make sure you don't get left behind by getting all your questions answered.
Unlimited Forum Support where you will connect with other amazing business owners offering their great skills to the world. You'll be able to network, help each other and learn from each others experiences. This forum remains open for your support even after the course has ended.
No-Charge Updates & Retakes. This course will live on Laptop Lifestyle YOUniversity and you will receive course updates and live Q&A retakes at no extra charge to you. It's a "living" course that will grow over time and you're in from the start!
If you're already in the Laptop Lifestyle YOUniversity, this training is included. How awesome is that!
Check out ENERGETIC Selling before it's gone!
Training 2: Special Offer from Cindy Bidar
Almost a year ago, I became part of Cindy Bidar's membership, Six Figure Systems, I have learned a ton, and can really understand why so many top level marketers speak so highly of Cindy and her work.
This week only, Cindy Bidar has bundled together her best trainings, checklists, templates and planning tools in The Ultimate Email Marketing System for one super affordable price, so you can finally make your email list the profit center you've always heard it can be.
But here's the bottom line…
The Ultimate Email Marketing System is for you if…
You already have a list, but you're inconsistent about staying in touch
You know you could earn more from your list, but you feel a bit icky about selling to your subscribers
Most days, you're a bit lost about what to even send to your subscribers
Funnels? You have a welcome email, does that count?
If you bought each one of these trainings separately, your total cost would be more than $120–and it would be WELL worth it at that price! But for the next few days only, you get all four products, including all the training, all the checklists, all the templates, and all the planning tools, for just $39.
Go here to get your Ultimate Email Marketing System today.
Your PLR Coupon Code from April
The awesome April Lemarr of Niche Starter Packs is having a birthday sale, and is gifting YOU a 55% off coupon on her All About Keto PLR Bundle from her shop. The bundle includes her Beginners Keto and Advanced Keto Packs.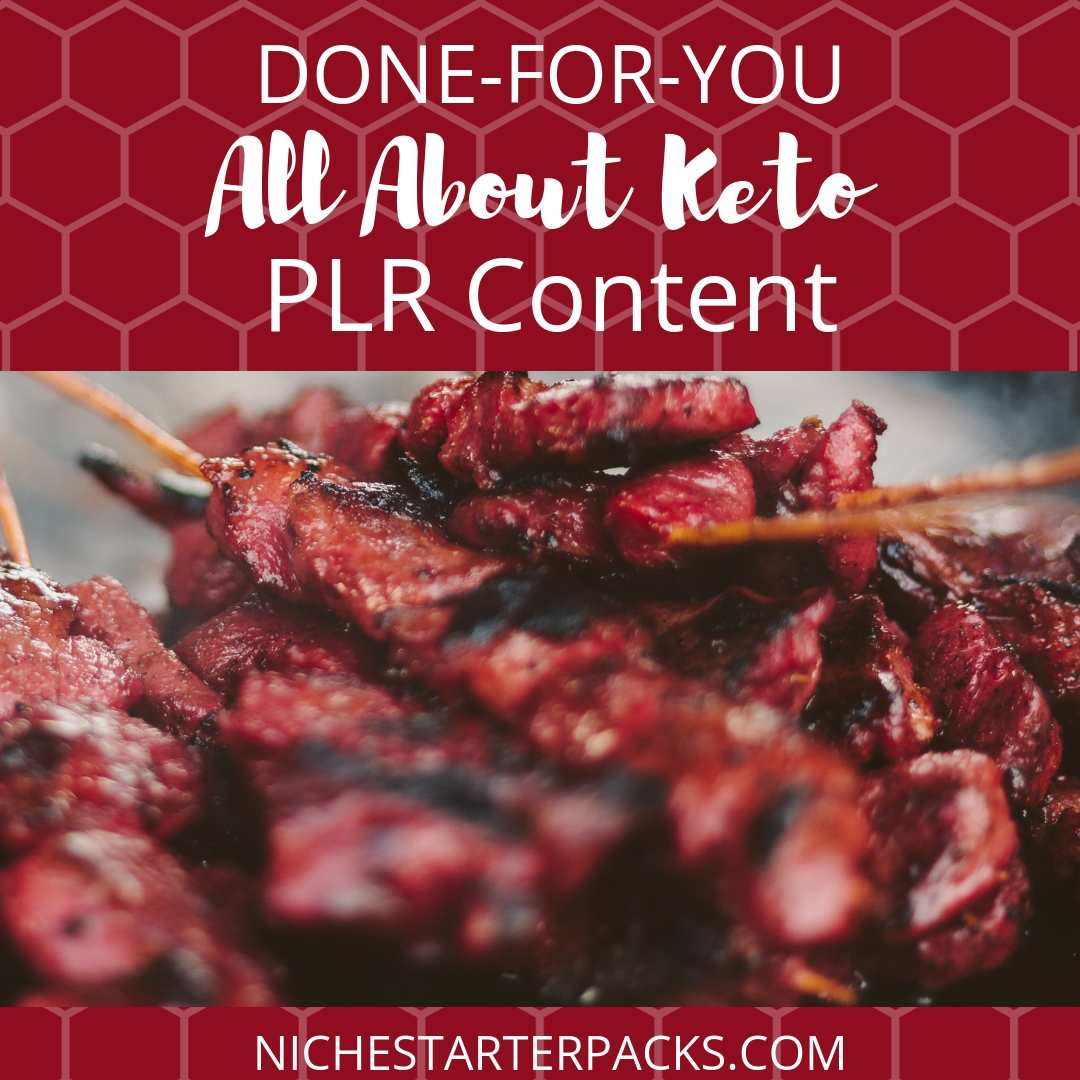 Beginners Keto Includes:
Report, Keto Basics
Canva eCover Template
Blog Posts (report broken up)
Bonus Royalty Free Images
Advanced Keto Includes:
Report
Canva eCover Template
Blog Posts (report broken up)
Bonus Royalty Free Images
Get your Keto Bundle here but don't pay full price! Use the Coupon Code: BDAYDEALS to save 55%!
New at HomeFreeMedia

A new PLR Article Pack on Marketing Through Storytelling. This is a hot topic right now so let your readers know what it's all about with these articles and graphics.
---

A timely PLR Report on Home Canning for Beginners. Just $10, so add this to your arsenal.
---

Have you seen the newest Inspirational Graphics pack? It's gorgeous, even if I do say so myself!
Take a look: Inspirational Graphics Goals Pack
Featured Article This Week
How to Grow in Confidence – Sleep Well
Featured Article at NormaEsler.com
PLR FAQ

Check out this FAQ page that's all about PLR, including a list of recommended PLR providers. Bring your burning questions and get them answered!
Visit my FAQ page here.

I hope you enjoy PLReZine and can benefit from my recommendations, freebies, and HomeFreeMedia products. My goal is to help you toward the life of YOUR dreams by providing tools and encouragement for you in your life and online business.
Norma Esler